Depression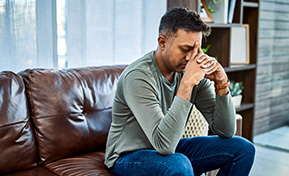 It is normal and healthy to experience sadness, especially when life's events and stressful situations cause these feelings. Although unpleasant, sadness and periods of feeling down or overwhelmed are normal and natural reactions to these events and often these feelings should pass in a few days.
On the other hand, when symptoms of depression become severe it may interfere with a person's ability to have a fulfilling and healthy life. Intense feelings of hopelessness and helplessness may lead to suicidal thoughts.
Other symptoms such as poor sleep, fatigue, difficulty completing daily hygiene tasks, and poor appetite may also be signs of severe depression.
Symptoms of Depression
Suicidal thoughts
Significant changes in weight or appetite
Feeling worthless or guilty
Trouble concentrating
Feeling hopeless or sad
Sleeping too much or too little
Fatigue
Feeling disinterested in activities they once enjoyed
These symptoms may range from mild to severe, it is important to thoroughly assess these symptoms and their severity to properly diagnose and treat depression.
Depression Treatment
Treatment for depression is individualized and adjusted as needed to achieve the best results. Treating depression may require medications, counseling, or both.
---
If you or anyone you know has thoughts of suicide, seek emergency care immediately.
The National Suicide Prevention Lifeline is 1-800-273-8255.
---
Request Your Consultation Today!
Telehealth services are available. Some appointments will require an in-person visit.
To get started, call us at (480) 780-2325 or contact us online.
---
Our Location